AP: Des Moines Iowa-The rock band New Member Charles has broken unprecedented ground by booking two shows in one month. On March 2nd they fulfilled their contract to play the
Beaver Tap
with the hit local band
Foxholes
. Now in a stunning turn of events they have been contracted to play a second show on March 26th at the
Vaudeville Mews
with some of America's biggest bands.
The show dubbed
"Rex Manning's Sound of Music"
features New Member Charles,
Kiriko
, The Beatless,
Honey Creeper
and DJ Need a Stack all playing hits from the 1960's era. Tickets prices are a steep 5.00$ but for a lineup full of headliners the money is more than worth it for a night of getting kicked in the balls audibly over and over again. Doors open at 9:30 if you want to arrive early and talk with a who's who of local scenesters about your favorite musical songs of the 1960's. For those who prefer to arrive fashionably on time music starts at 10:00pm central standard time.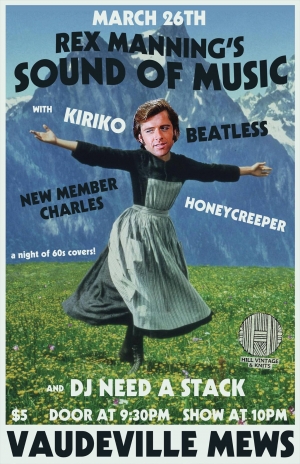 First 600 people in the door get a free mountain to throw footballs over.
The event chaired by the illustrious
Hill Vintage & Knits
will be donating all of their proceeds to develop a time machine to go back in time to prevent past rock stars from getting on airplanes and using intravenous drugs. A worth while cause that will eventually cause a sonic
butterfly effect
that will be heard for generations to come.
New Member Charles also has a few other events on the docket at
Vaudeville Mews
to continue their record breaking tour. April 23rd they will be joining up again with
Foxholes
to celebrate the career of Jim Chensil, more details on the show to come. And May 4th the Charles will join the Seattle based
Pony Time
and local favorites
The Wheelers
and
Satellite State
, for a
Star Wars
based interactive intergalactic adventure. They also have an album entitled Rock and Roll Alligator scheduled to be released this fall.
New Member Charles also continued it's longtime streak of not getting into the
GDP festival
for a record 6th year in a row. Band Manager Chistyl Dounch commented saying "The band would like to thank the handful of people who voted for New Member Charles this year." and continued "The band has now lost the contest or been left out of selections for 6 years in a row which gives them the record for most times something has been lost." Dounch is commenting on the recent national news that the band beat the previous title holder
Leonardo DiCaprio
after he successfully won the academy award on his 6th attempt.
Join New Member Charles on March 26th and beyond to help them celebrate their record braking run in losing and playing shows.
"Trust no one...except people who are trustworthy"- Chole Brungston
Josh