Greeeeeetings and Salutations a few new things in Charles world. We have two shows coming up!!!! Feb 22nd we are playing the latest installment of the Rex Manning series which has a 70's theme to the docket so all music played will be cover from the 1970's decade. The poster below has all the pertinent information all you have to do is show up and yell at us and we will play all of your Lil Kim favorites from the 1970's decade era. Links to the event can be found
here
and
here
. Brings all your friends and pets, as long as your pets are 21. If your pets are in fact 21 that is impressive.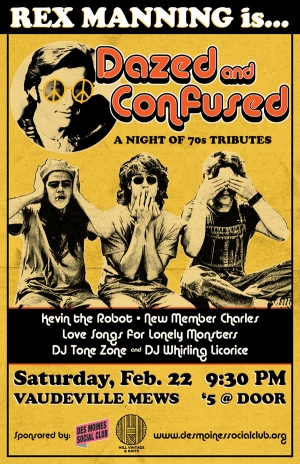 The man on the right is wearing overalls, which were popular in the 1970's decade.
Hold it right there Neil Diamonds because Charles has two shows in Feb, 2 show Feb bouns time. We are also playing Wed Feb 19th at the Beaver tap!!! Show should start around 8-8:30 ish and you will be treated to 2 live sets of Charles link
here
. We will be signing autographs as well, so there.
We are also still working on our ep....well we were but we plan to again in a week or two. More details upcomming but we are tentatively planning on a late March /Aprilish release for all of you to sink you hands into. Nothing else is going on, but it is cold out.
Word to you all
Josh